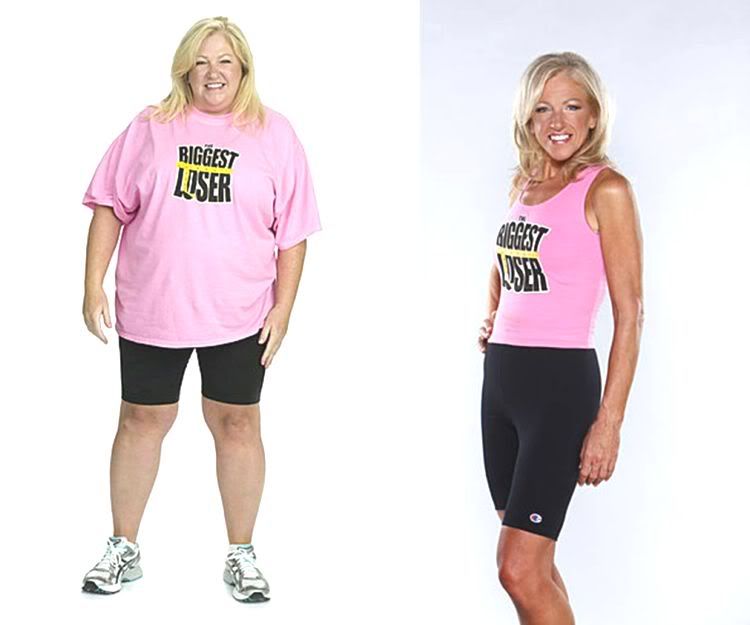 How many of you watched the Biggest Loser Finale tonight? Are those transformations unbelievable or what!?!?! The glowing energy from the contestants was just incredible, some of them losing more weight than what they weigh now!! And the great thing is, they did it the right way. Through lifestyle changes that will hopefully stick with them the rest of their lives, and be past down from generation to generation. And, for the 3rd season in a row, a pink team member, Helen, won... GO TEAM JILLIAN! Did she call it or what?!? (You know I HAD to mention it, being a Jillian Junky and all.. lol)
For those that don't turn in, and think, oh, well they are in a controlled environment with trainers breathing down their neck, you are dead WRONG! Jerry, at age 64, won the prize for the people that were sent home from the ranch. He was there only there the first TWO weeks, and was able to leave, go home and beat out every other contestant that went home, including Ron who was at the ranch til the very end. Beating out people with more weight to lose, people 1/3 of his age, people with less health problems. He, like so many others prove that it's NEVER too late to stop making making excuses and instead of living a lie, start living a LIFE!
It's all about making that decision to change for yourself. You can't do it for anyone else. Sure we all have our reasons for losing weight, getting fit, being healthy, feeling good, having more energy, living longer, but at the very top of that list is just doing it for OURSELVES! No one's going to do it for us.
You don't have to hit the gym every day, just get up and get moving! Trust me, once you start, your energy will increase gradually, where you'll actually get too antsy to sit down and "vegg out" like so many people do. You'll WANT to get up and just MOVE! Whether doing extra cleaning, getting that project done you always said you should do, taking the kids to the park, or going bowling or skating with friends, or heck, even trading that beer or mixed drink for a water at the club, and dancing your ass off til you sweat!
Exercise doesn't have to be this dirty word that makes you groan and whine when you hear it. It's also something people have to stop saying "I have no time" to do. This goes out to no one in particular, because I've seen SEVERAL cases of people over the years that gripe about their weight online, looking for pity or sympathy, yet not once did I hear how they turned off their computer and did something constructive. "I don't have time to workout or exercise". Really? Because you've been sitting in front of that computer for 5 hours straight after dinner. I know I used to be guilty of it, and I know my hubby is guilty of it. Only difference is, I decided enough was enough, and used that time to do what I set out to do.
The people on TBL are so inspiring, because it basically gives us "worst case scenario" and shows you YES... IT
CAN
BE DONE! Honestly, if other people's stories of success aren't inspiration enough, what will be? People fall off the wagon all the time, but the difference between winners and losers are the winners will get back on over and over again and never give up!
Nite y'all!!!