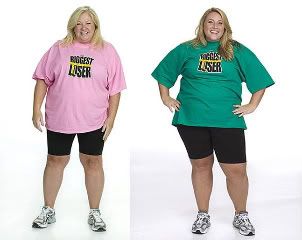 How they started:Helen
, mother and daughter team (Pink)
Starting weight 257
Current weight 154
"She's a 48-year-old powerhouse who has kicked everyone's ass and sent everyone home? and she's Pink team, if no one has noticed," Jillian said, referencing past winners Ali Vincent and Michelle Aguilar, who were Pink team members. She's lost 103 lbs on campus.
Tara
, former models (Green)
Starting weight 272
Current weight 169
She's won six consecutive challenges on the show and uring Tara's time on campus, she's lost 125 lbs. the most any woman has lost on campus in "Biggest Loser" history.
These two women are so inspiring. They are definitely a force to be reckoned with, and I do hope one of them wins!! I'm a sap when I watch this show, because the raw emotions of the contestants are so real. They came onto the show, obese, with health problems, and both had no self confidence or belief in themselves. They had just given up. Now, they are full of life, fit, healthy, and between the two of them have
lost 228 lbs in 17 weeks
between the two of them!! That's just incredible! True, the campus has a lot to do with the amount of weight loss, but at the same time, it does prove that it IS possible. It's all about life changes and being the best person you can be, knowing you are living and leading a fit and healthy life.
Here's a pic from them on last night's show during "Train the Trainer Day", where they got to put Jillian through the workouts she does to them. Jillian and Bob were sweating like CRAZY! It was a guilty pleasure for the contesants.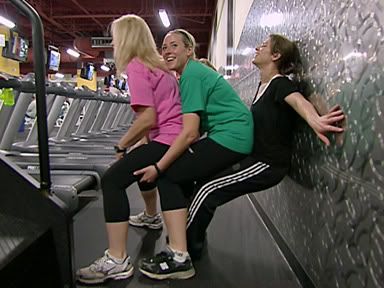 Also a pic of them and their other teammate Mike in their "goal" outfits they had bought before the show started. They look absolutely amazing and SO happy!!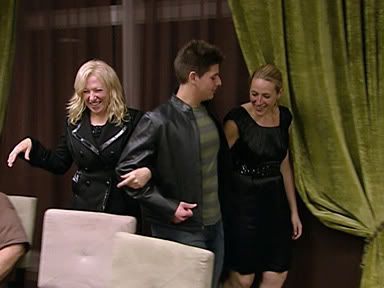 They head home for 30 days, and have one last weight in before the finale.
This show just inspires hope. Hope and the possibilites of the human spirit. To see more photos, video, episodes and information, go to
http://www.nbc.com/The_Biggest_Loser
Have a great day!!